Junior Member
Join Date: Dec 2015
Posts: 5
Mentioned: 0 Post(s)
Tagged: 0 Thread(s)
Quoted: 0 Post(s)
Brakes or Trans locked when shifted into Drive
---
I'm new to the forum and a little sad my introductory post is a service issue. I have a '15 Trailhawk with 1300 miles on it. So far I love it. It's comfortable and fun and fits my needs and a few of my wants. This morning however I had severe issue. I pulled the car out of the garage and put into park and closed the garage door and when I situated myself and shifted the car back into drive, it felt like all four wheels were locked up. My dash lit up like a Christmas tree with warnings, service abs, service 4wd, etc. The vehicle would not move.
I called roadside and scheduled a tow. I noted the Parking Brake light was not on at all despite all the warnings. Nor would it toggle on if I depressed the switch. When starting the vehicle after this the display showed:
Immediately after that message displayed it showed: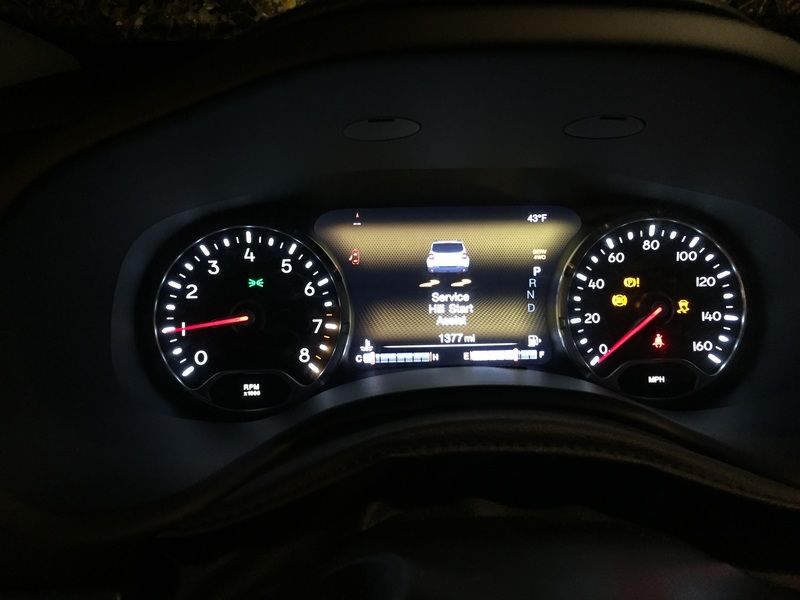 I cycled the key off and on 2 or 3 more times, (including cycling the shifter into drive) and the fourth time the failure messages dropped completely, as if nothing had happened. This was the first time since I backed out of the garage I felt the brake pedal move as the parking brake engaged and noted the light was now illuminated on the parking brake lever.
I drove around the garage and everything was fine. No warnings or lights, and the wheels all moved freely. I shut it off and drove around the block, and nothing, everything functioned as it should.
After talking to Roadside I elected to cancel the call and drive to my dealer. They scheduled me for next week for a loaner vehicle (they have to replace a door panel anyhow, it was split at the switch when I bought it.)
I'm hoping I don't have a failure that leaves me stranded over the next week on one hand and disappointed that this car has already had 2 failures in 3 weeks which is already 2 more than both my Kia and VW in 3 years. On the other hand I do love it and hope this all gets worked out so I can enjoy my Trailhawk.
Senior Member
Join Date: Jul 2015
Location: Falkirk Scotland.
Posts: 1,612
Mentioned: 2 Post(s)
Tagged: 0 Thread(s)
Quoted: 590 Post(s)
Not good at all. Let us know how you get on.
Junior Member
Join Date: Dec 2015
Posts: 5
Mentioned: 0 Post(s)
Tagged: 0 Thread(s)
Quoted: 0 Post(s)
I finally got my appointment to have my Renegade checked out as well as replace the passenger front door panel. The door panel issue was the material next to the switch plate had a split in it. How they handled that part should have been a portent of things to come.

Anyhow, as for the issue posted here, little did I know the service adviser never really documented my concerns. He reviewed them with me as we talked, then asked me to sign his tablet with my finger...

About noon he called to tell me it was ready to pickup so I headed over on lunch and was promptly redirected to the cashier (my adviser was on lunch.)

I walked outside and opened the passenger door to look at the panel. Sure enough, some hack with a screw driver scratched the metal section of the door when he tried to remove the panel. Add to that he lost the screw cap covers. Then I realized he threw all the plastic bubble wrap and junk from the new part in my back seat. I checked the switch and sure enough the panel wasn't seated correctly so the switch stuck down when depressed.

I think my agitation at this point is multi fold. Firstly, not only did the tech do a half a** job, he didn't even bother to tell anyone. He just threw all the crap in the back seat an hoped no one would notice.

Then back to the concern this thread was made for, I discovered the adviser didn't even bother to write up my concern. He simply wrote the Jeep up for:

15-097 2015 BU 2016 FB DTCM C2020-01 ECU INTERNAL FAULT (RRT 1)
RRT COMPLETED.

That is the write up for everything I typed in the first frame. That is a hard pill to swallow considering this condition pretty much had me stranded at 5am.

Add to that the blatant damage to the door sheet metal. It's not that the scratch is huge, it's more that it's deep and down to bare metal.

Sad part is I really love my Renegade. I hate that it has now broken down and been in the shop more than my 4 year old Kia and that the dealer has effectively damaged it and I have yet to make my first payment.
Senior Member
Join Date: May 2015
Location: Western Massachusetts
Posts: 316
Mentioned: 2 Post(s)
Tagged: 0 Thread(s)
Quoted: 124 Post(s)
Super Moderator
Join Date: Jun 2014
Location: US - NJ
Posts: 2,712
Mentioned: 15 Post(s)
Tagged: 0 Thread(s)
Quoted: 899 Post(s)
Brakes or Trans locked when shifted into Drive
---
Well if that line of gibberish means they updated firmware, they probably took care of your weird series of error warnings I had similar with my tcu improbable value error. That's what code got stored but I got a veritable jackpot of the colored did warnings because it flooded the can bus with garbage which made nearly everything claim it wasn't working right on restart. Do it again and limp mode with just the tcu code, service engine and service awd as awd had been disabled.

You can really get a lot of alarming messages that boil down to a one liner fix. Mine was a three liner because they wanted to get reimbursed for problems making the fca diagnostic system work.

The poor installation is unacceptable.
---
To view links or images in signatures your post count must be 0 or greater. You currently have 0 posts.
---
Last edited by raz-0; 12-08-2015 at

07:51 PM

.
Senior Member
Join Date: Nov 2015
Posts: 126
Mentioned: 0 Post(s)
Tagged: 0 Thread(s)
Quoted: 34 Post(s)
Sorry to hear of your troubles. The dealer I bought from hasn't been the best either. The service department has been better than the sales department but that's not giving them much praise. The only redeeming person there has been the parts guy I've been dealing with.

After having some work done on my new Jeep, I found interior panels not put back together, random Popsicle-stick looking things under a few pieces of interior trim. Not very impressed with them.

I hope your problem gets resolved. Where is the good customer service that I try to give to my customers?
Posting Rules

You may post new threads

You may post replies

You may not post attachments

You may not edit your posts

---

HTML code is Off

---