Discussion Starter
·
#1
·
This is an install guide for the fog lights, DRLs, and turn signals. Make sure to wear rubber gloves to prevent and oils transfering from your hands to the bulbs causing premature burn outs.
1. Depending on what side you are working on you are going to want to expose the access panel in the wheel well. if you are working on the right side, turn the wheel all the way to the left and you should see the access panel like in the below picture.
2. Next you want to remove this panel. Sometime the screw plugs are a bit finiky. I use a pair of needle nose pliers to grab the back of the post to prevent it from spinning and unscrew the screws.
3. After removing the screws you should now have and expose panel with access to all of the lower bulbs.
4. I want to believe Jeep put this in there to make bulb changing easier but who knows... there is a slot you can look in while you replace the bulbs.
5. Looking through the hole, you should see the following...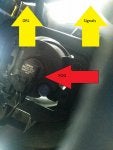 6. You can apply this to replacing any of these bulbs. Just turn the bulbs counter-clockwise and they should pop right out.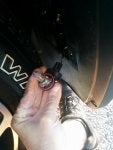 7. Push the tab on the bottom, and separate the plug from the bulb. Store the bulb just in case you need it at a later date.
8. Clip in the new bulb and reverse the install the procedure.
9. Enjoy your new bulbs!