Discussion Starter
·
#1
·
This is a bulb install tutorial or the OPT7 LED's. Depending on what buls you get,will depend how they will sit in the housing. Dont worry ill explain with pictures. Make sure you wear rubber/latex gloves when you do this to prevent any oil from your hands transferring to bulbs and prematurely burning them out.
1. Pop your hood and find and remove the rubber covers that grant you access the the headlight housing (just pull the tab indicated by the orange arrow).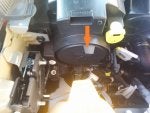 2. Reach inside the housing, you will feel the back of the bulb (follow the wire). Grab the back of it and turn your hand counter-clockwise and the bulb should unlatch from the housing.
3.Pull the bulb out of the housing and you should see the picture below. Toward the bottom of the grew piece (where the orange arrow is) there is a tab. Push in hard on the tab while pulling the gray adapter out of the bulb. This will separate the bulb from the adapter.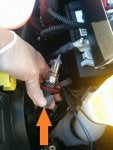 4. Repeat steps 1-3 for the opposite side. Place bulbs in a safe place just in case something happens to your LEDs and you need replacement bulbs.
5. If you order the OPT7 LED's then you should have got a H13 adapter indicated by the box below. Make sure you plug it in. to your new light.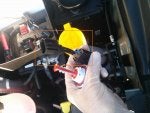 6. At least with my lights i found that it was much easier to adjust the beam if i took out the screw in the below picture, this allowed me to rotate the bulb in the housing.
7. Becasue of the jeep light housing paired with how these bulbs work you want them sitting with the leds pointing left and right o|o . Other bulbs may require the bulbs be pointed up and down.
8. Now its its time to reinstall them pretty much exactly how you took them out. Once they are in the housing, make sure they look like this. (Note: the wire is on the bottom, perfectly strait up and down). if you look in your headlight houseing you should seethe the bulbs facing left and right. not up and down.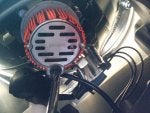 9. Plug LED light to the gray car plug, place all the wires in the housing and throw the rubber cover back on.
10. Enjoy the lights