As I look at the 2015 model overview
posted
by MednessAutoworks, it lead me to thinking about the 2017 mid year refresh of the Renegade as outlined in their roadmap below.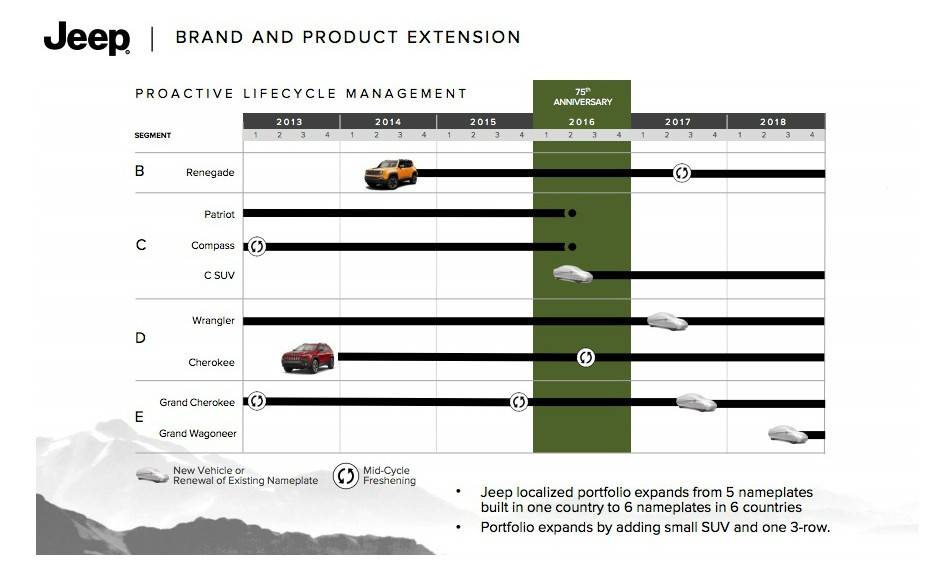 So I figure it would be fun putting down predictions/wants of what might show up in the 2017 mid year refresh. So when the time comes, we can come back and see what panned out or not.
Predictions added as they are posted (with the poster who first suggested it)
Overall (Interior & Exterior), Options
Rearrangement of option packaging (raz-0)
Better advertising & pricelist (syzygy)
Engine Block Heater (TS)
Advanced Tech Group for Trailhawk (TS)
(Frontal Collision, Lane Departure, Parksense warnings)
Engine / Mechanical / Performance
2.4L with Manual Transmission (TS, StealyFace65)
Limited slip or electrical locking differentials (bwbike)
Start/Stop for Trailhawk (raz-0)
Drop 1.4 L and add 2.4 L manual (Leonidasthesnake)
Hurricane engine (220 hp 220 ft lbs) (Leonidasthesnake)
240 Hp SRT version for Trailhawk (bwbike)
Supercharged 2.4 L (Rufus)
A Sports Mode on the automatic transmission (Rufus)
Diesel version for the U.S. models (TS)
Bigger fuel tank (Rufus)
Exterior
Optional Power Rear Lift Gate (TS)
CommandView Powered Glass roof (TS)
Tweak to bumper design (dual exhaust pipes) (raz-0, TS)
More lineup of exterior colors (raz-0)
Glass/Clear MySky panels (Leonidasthesnake)
Xenon headlights for U.S. (fmunk)
Powered glass sunroof (StealyFace65)
Audio / Multimedia
Android Auto / Apple Carplay compatibility (TS)
Interior
Rear Heated seats (TS)
More color options for Trailhawk model (TS, StealyFace65)
Different color accents that match the cars color (TS)
Soft padded arm rests (TS)
Memory Settings for power seats (Hypocrite)
More storage space (under seat compartment) (StealyFace65)
Sunglasses Holder (StealyFace65)
Larger front door compartments (StealyFace65)
Lumbar support for drivers seat (StealyFace65)
Better quality manual gear shift knob (StealyFace65)
Lay flat rear seats (TS)
Safety / Convenience
Homelink rear view mirror (TS)
All windows down with remote (Thud Nugget)
Retractable Tonneau cover (TS)
If you have any others post them up, and I'll add them to the list above.
Updated roadmap as of August 2015 below.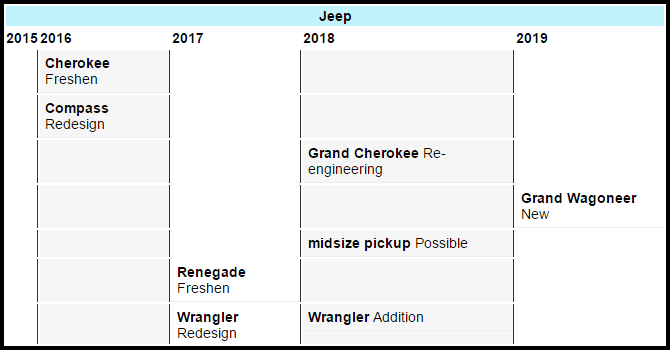 TS