Discussion Starter
·
#1
·
Hi all, looking to see if anyone else has had these issues...
I have a 2016 Jeep Renegade DoJ edition that has had repeated issues with the MySky weather stripping and the glue used to hold the pieces in place. The stripping has had to be replaced 5 times due to glue failures since I purchased it and now, just as the factory warranty runs out, the rear door stripping is having the same issue...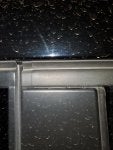 The part number is 68417438aa (called the weather run channel). What is happening, per the dealership mechanic, is that the glue in the channel that holds the piece in place had failed some time ago and the action of opening and closing the rear windows forces the stripping up and out of place, damaging the stripping and window seal.
Of course, after speaking to a very rude customer service rep, I find out this part is not covered under Mopar's Maximum Care extended warranty as it is considered "cosmetic trim"...how is something that keeps wind and rain out of your car or truck "cosmetic"?
If anyone else has seen or dealt with this how did you go about getting it repaired? Is it doable yourself and if so what glue/adhesive can I use to ensure I don't have the repeat problems like I'm having with the MySky stripping? Any help would be greatly appreciated, thanks all